At Surreal Design, we create kitchens that often last a lifetime – the German quality and careful installation process ensures that our kitchens are built to last. In this featured article we talk to a client who has recently purchased her fourth kitchen from Surreal Designs. Clare McGrady and her husband Noel, moved into a purpose-built apartment – an extension of their family house in Oranmore, which is now home to their daughter, her husband and their young family.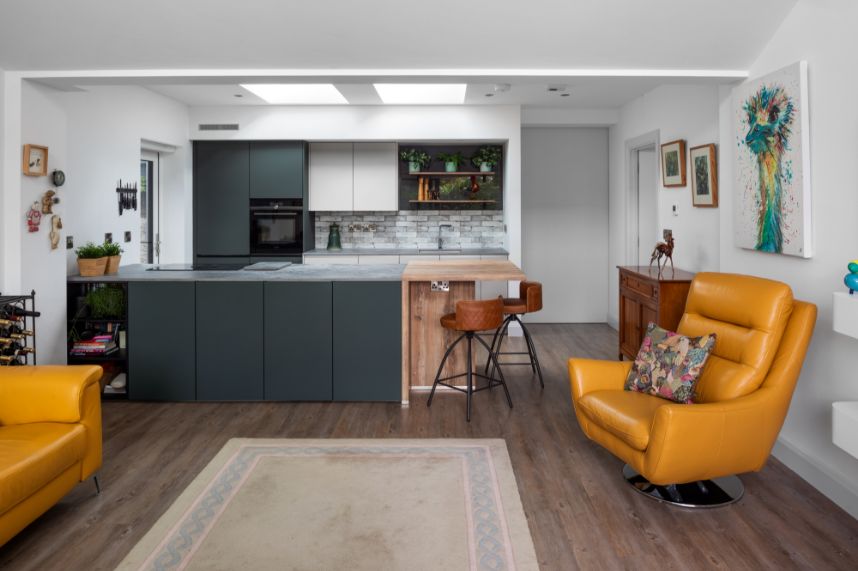 The Surreal Brief
Every time Clare moved house she installed a Surreal kitchen, so when she decided to downsize to an apartment, her first point of contact was with John Blaine from Surreal who had designed three Kitchens for her previously. The challenge was to design a small kitchen with all the functionality and style that Clare was used to.
Here is what Clare had to say about the process:
Why do you always choose Surreal Kitchens?
The first time I bought a kitchen from Surreal it was because John came up with so many wonderful ideas that we would never have considered ourselves. He creates kitchens that look great but are also very functional and suit your way of life. I went back time and time again because of the quality – the drawers can take heavy pots, and doors can withstand children slamming and swinging off them – they are engineered to be used.
How would you describe your most recent kitchen?
It's perfect for the two of us – it has everything we need and it looks great. It is almost like a piece of furniture in the open-plan space and just blends in with the room.
What design feature do you like best?
The doors on the units are a beautiful olive-grey from the outside so that they don't overpower the room, and then on the inside, they are white to give a sense of space in the work area. I like the mixture of textures too – the sleek doors with the stone effect splashback and the wooden breakfast bar work well together. John thought about how we would use the area and suggested open shelving facing the sitting room area for our books and magazines. The eye-level oven is great too.
What is your favourite appliance?
The induction hob with built-in extractor is brilliant and eradicates smells and steam which is so important in a small open-plan area.
Project Features
Quality German kitchen cabinetry
Space-saving and easy-access storage features
Combination of colours and finishes to break up the kitchen into designated areas
Induction hob with built-in extractor
WATCH
Be inspired
…
view our walk through