Ciaran and Sue Gannon have lived and worked all over the world from Japan to the USA and have recently built their 'forever home' on a secluded site in Taylors Hill with views of Galway Bay. It is a beautiful, architecturally designed house featuring influences from the owners' extensive travels. It is also a warm family home and literally hand-built by the owner, Ciaran, who took a two-year career break to project manage the construction.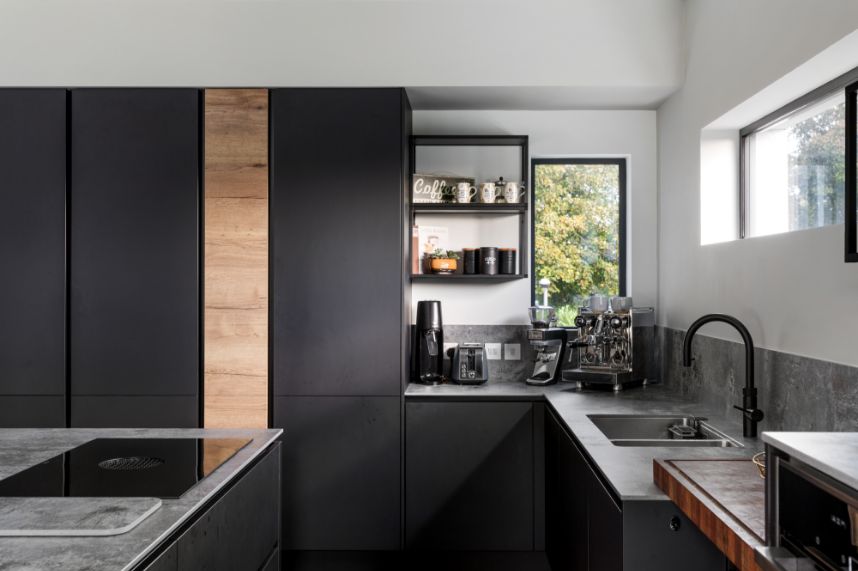 The Surreal Brief
Designing a kitchen that would become the centerpiece of such a fabulous home was a big responsibility but one that our team relished. The client was very hands-on and had done his research – our challenge was to tease out his requirements and present a solution that exceeded his expectations.
Here is what Ciaran had to say about the process:
Why did you choose Surreal Designs?
We had recently moved back to Ireland and I asked several friends for recommendations for high-end kitchen companies in Ireland – Surreal was recommended along with a few others. I visited them all and after the initial consultation, I chose Surreal. They listened to what I wanted but also challenged some of my ideas and luckily, I involved them at an early enough stage in the build that I was able to change the architect's plans to incorporate some of their ideas.
What is your favourite feature of the design?
I'm so glad that the designer from Surreal talked me out of having a large utility room and instead incorporated the extra space into the kitchen. It has given us a large Island which is ideal for entertaining. The sleek design of the cabinet doors in a dark grey laminate with no handles contrasts perfectly with wooden surfaces and wood panel features on the walls.
Was it difficult to decide on the final design?
I had a good idea of what I wanted but I also trusted the designer and was open to all of her suggestions. Breaking up the tall units with a wooden fronted pull-out shelf added originality to the design- it is also very practical and can be left open while cooking so that spices and seasoning can be easily accessed.
What is your favourite appliance?
The Quooker tap with instant hot water is great and the induction hob with a built-in extractor is essential in an open plan space but my coffee machine is pride of place in the kitchen. The Surreal designer considered this in the design and created a little coffee corner just for me.
Is there anything you would change about your kitchen?
No, I'm so happy with it. The 3D visualisations used in the design process meant that I knew exactly what I was getting and I wasn't disappointed.
What advice would you give anyone looking for a new kitchen?
Listen to the professionals – they know what they are talking about and are experts in maximising the use of space and minimising work in the kitchen. A simple feature like positioning the ovens to suit your height or considering if you are right or left-handed can make all the difference when it comes to using the kitchen. Of course, it has to look good too and German design and technology deliver on both aesthetics and performance.
Project Features
Quality German kitchen cabinetry
Space-saving and easy-access storage features
Combination of engineered wood finishes to break up the kitchen into designated areas
Induction hob with built-in extractor
WATCH
Be inspired
…
view our walk through