Cupboard space. Appliances. Sink. Cooking and food preparation areas. Seating. There are certain zones in the kitchen that are non-negotiable and should be factored into all kitchen designs.
First and foremost, a kitchen's purpose is to cook and prepare food for the household. However, many kitchen owners now view the space as a living, breathing extension of other rooms in the house – such as a living room; the kitchen functioning as a gathering spot for friends and family with food at the centrepiece of that interaction.
Use colour to set the vibe of your kitchen space
The style of kitchen can be a reflection of its purpose and the personality of the owners – bold and adventurous colour and textures used where appropriate to indicate a more lively and bustling space. Alternatively, more muted, pastel colours offer a more familiar, cosy family feel.
Style and functionality go hand-in-hand
Consideration of how you want your kitchen to appear should be preceded by what function your kitchen will serve. German kitchens have set the benchmark when it comes to attention to detail, engineering, quality and striking the balance between style and functionality.
Appliances can make a statement
From contemporary to country, your chosen style will influence the appliances that are incorporated.These choices, typically made very early in the design process, will impact later decisions including the particular finish that is applied. If you have your heart set on a cosy range or AGA then a country style kitchen may work better or a contemporary kitchen with a twist of county. A sleek induction hob and integrated oven space may be more suited to a modern kitchen area in an open plan home or apartment. American style fridges can become the focal point of a kitchen and need a lot of space, whereas integrated fridges work well where the focus is on the design of the kitchen units and surfaces.
Gloss or matt?
The choice of specific finish will determine the level of sheen of surfaces. There is no one-size-fits-all and it is entirely subjective and determined in many cases by preference, budget and availability.
Walls will be treated differently to splash areas. Cabinets can contrast with countertops. What works in one instance, may not work in another. Wood surfaces and matt finishes are easier to maintain but high gloss finishes, in the right circumstances, can brighten up a small room and reflect light to give it a more airy feel.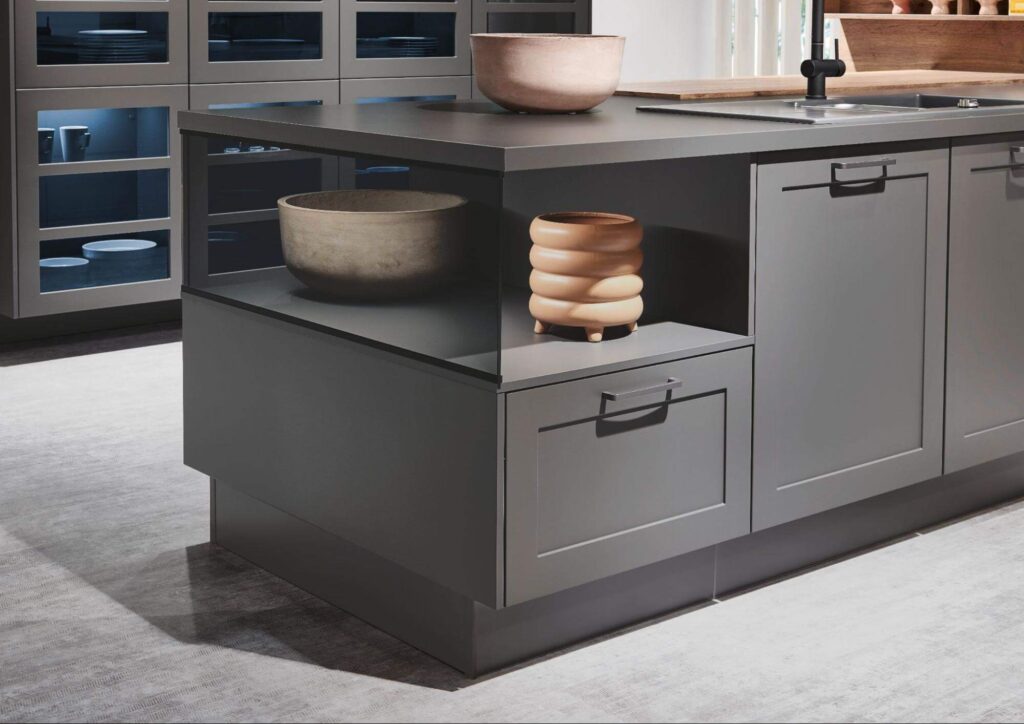 Take inspiration from the rest of the house when planning your kitchen decor
When designing kitchens – especially open plan spaces, it is worth noting other areas of the house, especially rooms or spaces directly connected to the kitchen. Congruence with existing colour schemes, styles and decor will enrich the home setting and produce an experience that makes the transition from cooking to dining to relaxing even more enjoyable. 
At Surreal, we have decades of experience and have seen (and designed) many kitchens in our time. Our knowledgeable experts understand the importance of making the right choice in kitchen style for your home not just today, but in the years to come, giving you peace of mind that you've made the right investment.